Consigli di lettura dall'Istituto #2 – Giovanni Caturano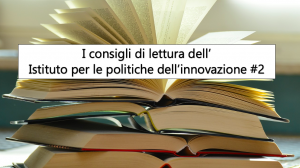 I consigli di lettura dell'Istituto per le politiche dell'innovazione
Da molto tempo ormai uso un lettore di eBook. OK, il profumo dei libri e quello che vuoi, ma pesa di ognuno dei dieci volumi che altrimenti mi porterei dietro e occupa molto meno spazio, permettendomi di portarmene di più e di dimenticare l'indolenzimento del braccio. Inoltre posso ingrandire i caratteri che, alla mia età, ha la sua utilità. Alcuni di questi libri, però, rendono ancora meglio su carta. Li ho segnati con un asterisco.
Il libro che tutti dovrebbero leggere
"Anarres" (oppure "Quelli di Anarres" o ancora "I reietti dell'altro pianeta") di Ursula K. Leguin, una delle mie autrici preferite. È un libro che mi ha cambiato e che ha cambiato tutti quelli a cui l'ho consigliato. Polverizza certi capisaldi della politica e della morale spogliandoli del loro abito velleitario e ipocrita.
Un libro sull'innovazione *
"Descender" di Jeff Lemire e Dustin Nguyen. Non è esattamente un libro, perché è diviso in più volumi, ma potete leggerlo tutto d'un fiato. Parla di come travisare un concetto può essere molto pericoloso, specialmente se la politica si fa guidare dalla paura invece che dalla conoscenza. Ma parla anche di emancipazione e di amicizia.
Un libro per capire di più il mondo *
Guy Delisle è forse il più innovativo esponente della letteratura di viaggio. In "Cronache di Gerusalemme" racconta un quotidiano fatto di perquisizioni e checkpoint, di contraddizioni e di armonia, di atrocità e di bellezza, utilizzando la lente sorprendentemente autentica e ispirata che è la sua firma inconfondibile. Sempre suoi, nello stesso filone, gli altrettanto utili, profondi e divertenti "Pyongyang", "Cronache birmane" e "Shenzen".
Una biografia
"The Man Who Tried to Buy the World" di Jo Johnson e Martine Orange. È del 2003 ma l'ho scoperto da pochissimo grazie al consiglio di un amico e non l'ho ancora letto, quindi lo suggerisco nello stesso momento a voi e a me.
Una scoperta dell'ultimo anno
"Femminili singolari" di Vera Gheno. Utilissimo non solo per chi pensa ancora che "correre come una femminuccia" sia solo un innocuo modo di dire, ma anche per chi sceglie di parlare come pensa, cioè in maniera inclusiva ed egualitaria, ed ha ancora qualche dubbio o teme di apparire ridicolo.
Giovanni Caturano – Chitarrista, imprenditore e gamer. CMO e CIO di Mare Group
* consigliato su carta