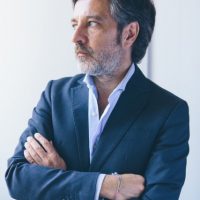 Giovanni Maria Riccio
Presidente
Professore di Diritto comparato, insegna Legislazione dei beni culturali e dello spettacolo, Diritto d'autore e Diritto dell'arte presso l'Università di Salerno. Laureato con lode, ha conseguito il titolo di dottore di ricerca in "Comparazione e diritto civile". Avvocato, è iscritto presso l'Ordine di Salerno.
È stato visiting professor presso le Università "Joseph Fourier" di Grenoble (Francia), "Ovidius" di Constanta (Romania), visiting fellow presso il Birbeck College dell'University of London e academic visitor presso l'Oxford Intellectual Property Centre della Oxford University.  È stato inoltre judge presso la Price Media Law Moot Court della Oxford University; invited professor presso la International Summer School on Cyberlaw dell'Università di Mosca e presso il Politecnico di Beja. Nel 2006-2007 è stato consulente della Commissione Europea-DG Mercato Interno sulla revisione della direttiva sul commercio elettronico.
Assiste imprese nazionali e multinazionali in questioni relative al diritto delle tecnologie (privacy, startup, commercio elettronico), della proprietà intellettuale (copyright, concorrenza, marchi e brevetti) e del diritto dell'arte in ambito stragiudiziale e giudiziale. Svolge l'attività di responsabile per la protezione dati (DPO) per enti pubblici e società private.
Autore di oltre cento pubblicazioni nelle materie di attività, edite da autorevoli riviste italiane ed internazionali, ha scritto i libri "Copyight collecting societies e regole di concorrenza" e "La responsabilità civile degli internet providers". È condirettore della collana "Diritto e Policy dei Nuovi Media", nonché membro dei comitati di redazione o scientifici delle riviste "Journal of Intellectual Property, Information Technology and Electronic Commerce Law", "Journal of Law, Technology and Public Policy", "Comparazione e diritto civile", "Medialaws", "Revista Juridica do Cesuca", "Diritto mercato e tecnologia", "Rivista di diritto sportivo". È membro dell'"Intellectual Property Law & Technology Program" della Osgoode Hall Law School, York University (Canada).
È stato docente e relatore presso università e centri di ricerca italiani, europei e statunitensi. Tiene periodicamente corsi di aggiornamento per società e pubbliche amministrazioni.
Il team